Protection & control equipment
During October Acrastyle completed delivery of protection & control equipment to NIE's Tamnamore Substation in Northern Ireland. This significant project included four fully equipped portable relay rooms, eleven marshalling kiosks, a suite of ten 110kV protection panels & a 110kV, 3 bay mosaic mimic control panel.
The project was an extension to previously supplied protection & control equipment by Acrastyle delivered to Tamnamore substation in 2007.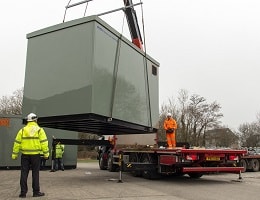 Fully equipped relay rooms
The equipment supplied included four portable relay rooms fully kitted out with 275kV front access protection panels accommodating bay controllers, a primary marshalling field complete with all internal multi-core cable interfacing & anciliary equipment. These portable relay rooms were powered up & fully function tested at Acrastyle's manufacturing facility in Ulverston prior to delivery. This 'plug & play' solution allowed the customer to significantly reduce installation & commissioning time & cost compared with a traditional brick built substation building.
110kV Mimic control panel
A fully equipped, wired & factory tested 110kV mosaic mimic control panel was also supplied to Tamnamore Substation. The mosaic mimic spanned across three integral 800mm wide cubicle bays & was delivered as a single unit after undergoing rigorous simulation testing at Acrastyle's premises.
One of the advantages of a mosaic style mimic is that they can be easily modified in the future should any of the external plant change. Mimic control panels also provide a very user-friendly graphical interface for operational personnel.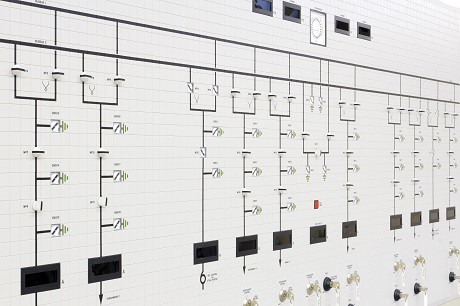 110kV Protection panel suite
A suite of twelve 110kV rear access protection panels were supplied consisting of two interbus transformer protection panels, eight feeder protection panels, a busbar protection panel & a bus-coupler protection panel. Prior to despatch the panels underwent comprehensive factory acceptance testing (FAT) witnessed by the customer.
Marshalling kiosks
In addition to the protection & control equipment above, we also supplied eleven stainless steel outdoor marshalling kiosks which were a double-bay style with segregated AC & DC compartments. These stainless steel kiosks were painted on the exterior in line with Northern Ireland Electricity's specification & were finished internally with Acrastyle's standard anti-condensation paint.
These kiosks house MCB/fuse distribution boards, terminal boards for cable marshalling, bus zone CT test blocks, 240V AC site socket outlets, control switches & thermostatically controlled heaters.