Sub-contracted design services
Acrastyle can supply a design of a system from scratch and get it built. From tendering, design, build and testing, we can follow through a design project from start to finish.
From the customer's initial specification, we can design schematic diagrams, wiring diagrams, and general arrangements, and make suggestions as to what equipment will be required to complete the build. We can then incorporate these practical elements into our design.
We begin with a schematic diagram that shows all the related circuits, either to a standardised format, or to your own specification. We lay out the panel as a general arrangement making sure all equipment will fit. Once these parts are approved, we will design wiring diagrams for our engineers to build and test too. A full functional test can also be provided before the panel is delivered to save on expensive commissioning time at site. A complete set of as manufactured drawings are supplied within 10 working days of panel delivered so you have an accurate reflection of your panel.
With our extensive CAD resources, Acrastyle can provide a sub-contract CAD design and drafting service for almost any application.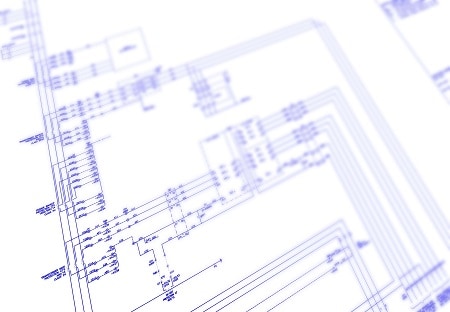 We use the latest AutoCAD 2019 software & can provide drawings & designs in all releases of AutoCAD DWG file in addition to DXF, DWF and Adobe PDF files. Drawings can also be provided for compatibility with other CAD packages on request.
We are also able to scan and modify old legacy hand-drawn drawings using modern Raster software such that drawings for older equipment can be easily modified to incorporate any necessary changes.
Scan and print
Our design services are supported by our large format scanning capabilities, and also our large format plotting/printing services (up to A0 in colour or B/W).
Contact us to let us provide you with a detailed quotation to meet your CAD and drafting requirements.