Purpose Built Containerised Substation Solutions
Acrastyle Limited manufactures fully furnished containerised substation solutions for both utilities and the private sector. The energy sector demands high quality solutions that are fully integrated and readily available. Why should substations be any different? The containerised substation is cheaper than conventional brick and mortar substations and it is quick to deploy. The containerised substation solution is ideal for smart grid systems, solar parks and wind farms. For an easy installation choose ACRASTYLE containerised substations.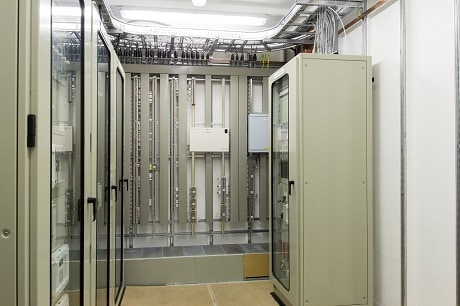 Digital Substation
The IEC-61850 suite of standards introduces Ethernet into the substation environment. Our containerised substation solution has been manufactured with IEC-61850 in mind every step of the way. The Optical Distribution Frame includes over 300 fibre optic mid-couplers for ST and LC connections. There is plenty of fibre optic ducting to create a fully integrated substation network. The fibre-optic design is a free service that we provide as part of the Containerised Substation.
Safety Criteria
High voltage substations can be dangerous, hence we provide an integrated copper earth system to reduce step-touch potential voltages and improve operator safety. The cable tray forms part of the integrated earth system and this is crucial to comply with UK substation safety regulations. We also provide a BS7671 certificate of electrical compliance as a standard. All wall sockets are RCD protected and form part of the integrated earthing solution. The fire detection system is equipped with a smoke sensor, alarm beacon and local control panel.
Technical
IP ratings are important and we build our containerised substations to IP 56 or above. The containerised substation is built with an extra-thick, cladded rooftop and sidewalls. Low maintenance is achieved by a robust extractor fan which maintains positive pressure and keeps out the dust. The cable entry box is IP68 rated and large enough to accommodate hundreds of multi-core cables. AC and DC cable routes are kept separate to reduce electromagnetic interference and this eliminates the chance of mal-operation of tripping circuits.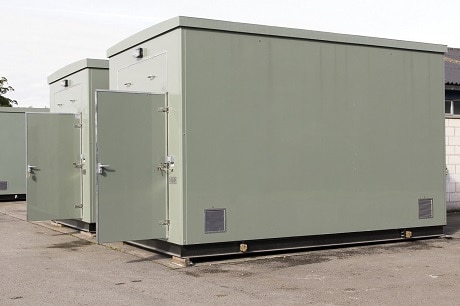 Comfort
Substation commissioning can be tough on engineers busy with advanced testing. We have made the containerised substation as comfortable as possible with professional office furniture, uniform lighting distribution and a large anti-condensation fan heater to keep you warm during inclement weather.
Substation Hardened
The containerised substation is reliable and has been designed to withstand severe weather conditions.