In-house testing
Acrastyle has adopted a standard philosophy with regard to routine testing of its products, this ensures that when the customers receive their product they are both fit for purpose and functional, thus saving time on installation / site commissioning and reduces overall project costs.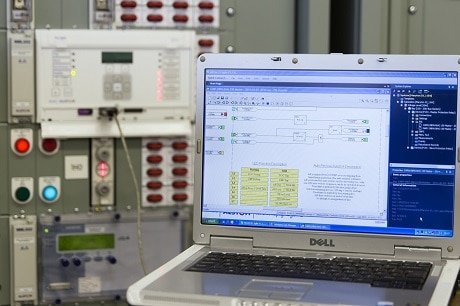 Acrastyle has a dedicated highly experienced team of test engineers who know and understand the individual customer's requirements and standards.
Acrastyle adopts levels of testing from FAT level 1 to FAT level 3:
Level 1 as a standard on all products ensures that mechanical and electrical testing to scheme design, including insulation tests are performed as a norm
Level 2 incorporates level 1 but allows for testing in-house or customer supplied IED software and development.
Level 3 incorporates both levels 1 and 2 and provides a fully powered working solution up to the field wiring / customers interface ensuring that a smooth transition takes place from installation and through site commissioning, thus reducing site commissioning times and overall project costs.
Customers all too often find out at commissioning that the protection system they planned does not work. This can be because:
There is some basic error in the design
The relay settings worked out in theory do not perform well in practice
The programmable scheme logic required by modern devices has bugs in it
Some unused functions on a multi-function relay are interfering with the system
Using Acrastyle to design and manufacture the protection system can eliminate these problems, as not only does it have the design expertise but also the design for manufacture and scheme testing expertise.
Scheme testing – customer design
Alternatively if the customer has provided the design, Acrastyle has the ability to recognise design problems both during the manufacturing phase and at the testing stage where we can propose solutions. These solutions can then be implemented, tested and verified long before the project arrives on site. This avoids project delays, expensive fault-finding on site and a late re-design effort.
This is the critical differentiating feature of Acrastyle's protection system offering over its competitors. Our ability to extensively test the protection and control systems that we manufacture, using the most sophisticated computer controlled equipment, means that the systems can arrive on site with Plug-and-Play functionality.