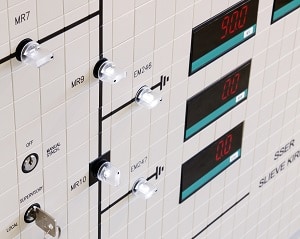 Acrastyle specialises in providing power system control panels (commonly called 'mimic control panels') and cubicles for all levels of electrical power transmission, distribution and generation.
Control panels and cubicles generally have:
A schematic mimic on the front representing the system being controlled
Lamps and indicators to show the status and position of all the elements
Switches to control and change the status of these plant items
Alarm annunciators and fault recording equipment
Full internal wiring, and equipment mounted on the front and internally.
Replacement front sheet panels have fully wired inter-device wiring, and flying leads wired to a terminal rail enabling easy external connection between old and new systems.
Acrastyle can provide standard 19" rack type control panels or custom-sized panels tailored to individual demands. Cubicles can be rear access or front access swing frame with or without front doors.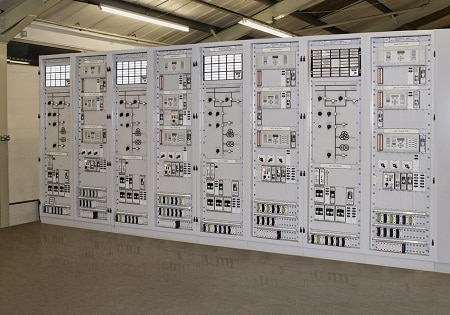 An Acrastyle control panel or cubicle allows the customer to quickly and easily install new, or replace existing, control equipment with the following benefits:
Fast commissioning on the new controls and mimic since the scheme has been fully factory tested out to the terminal rails
Minimum outage time and site-work cost
No disturbance to adjacent cubicles other than the reconnection of bus-wiring between cubicles
Acrastyle can design and provide 'red, green and black' drawings if required, where the control equipment is either retrofit or part of a phased new installation.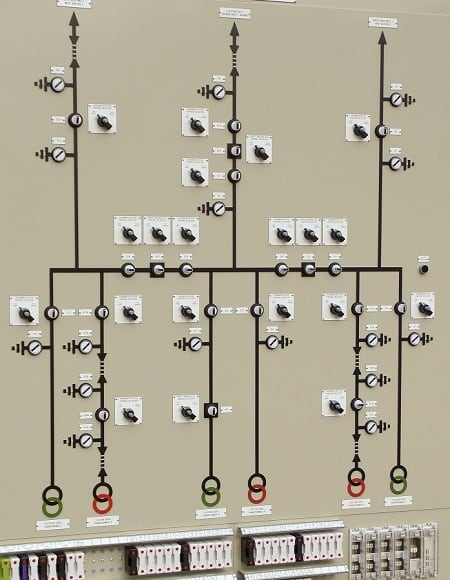 Please contact Acrastyle to have all your requirements fully met for:
19" rack-based protection and control cubicles and panels
Solid front protection and control cubicles and panels
Swing frame front access protection and control cubicles and panels
Wall mounted protection and control boxes
Mosaic mimic control boards
Perspex mimic control boards.