Challenge – Transformer protection & control
Acrastyle were commissioned to provide fully integrated design, build and test for new transformer protection and control panels to protect two newly installed transformers (33/11Kv 25MVA Dy11). The new transformers were scheduled to be installed into a new substation of a large industrial aerospace factory.
The substation is adjacent to the local distribution utility primary substation and necessitated design and equipment that was wholly compatible with the supplier utility's existing plant and which also provided the essential protection and control required by the customer.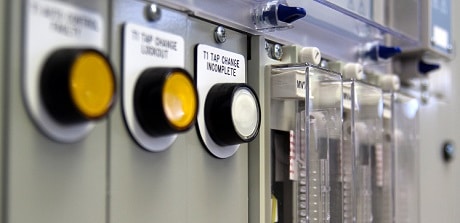 Time & cost savings through integrated design, build & test
Solution
Acrastyle's engineering team provided a comprehensive schematic system design of the protection and control required. This was approved by the customer and after completion of the manufacturing drawings by Acrastyle, two bespoke transformer protection and control panels were manufactured by our on-site production facility. These were then subject to rigorous in-house Factory Acceptance Testing (FAT) to prove the system design.
The panels were complete and ready for delivery to the client on schedule to the project programme. The client's transformer installation project was not yet at the stage to install the panels so Acrastyle retained them in storage for three months until delivery was requested. The panels were subsequently installed on-site by the client's installation and commissioning engineers.
Benefits
Acrastyle's expertise in protection and control system design was of huge benefit to our industrial customer who only needed to provide us with the minimum of design parameters and specification for us to incorporate their requirements into the overall protection and control system design.
This system design also had the customer's utility supplier's needs fully covered, since Acrastyle's design engineers are fully conversant with their specifications. The result of this is that, besides the expected project coordination communications, the customer's project engineers and managers were not inconvenienced by requests for clarification on complex technical matters, thus, keeping their administrative workload to a minimum. In addition, the design process is far quicker without this extra administrative burden meaning project deadlines are not missed and additional project cost avoided
Project completed on time and within budget
Equipment retained in storage until required
Plug and play commissioning due to new panels fully scheme tested at the factory
Partnership approach ensured that the customer's and Acrastyle's goals were fully aligned
Integrated design, build and test under one roof, reducing overall deliverable time and cost