This month we have had orders for marshalling kiosks from Kirkby Group, are enjoying working with Northern Ireland Electricity Networks again and renewing our NQA accreditations.  Recent staffing restructures have resulted in the creation of a new Sales & Business Development Director role.
Marshalling Kiosks For Kirkby Group And Ongoing Contracts
We have just received an order from Kirby Group to provide Outdoor Marshalling Kiosks.  Kirby Group is a provider of high-value engineering and construction services. The company was founded in 1964 and operates across Ireland, the UK and European markets. It provides a variety of engineering services including; HV/MV services, process pipework, mechanical, electrical, instrumentation, prefabrication, modularisation and digital construction.
Kirkby Group has offices in Dublin, Galway, Limerick, London, Warrington, Glasgow and Brussels. It serves the following sectors; data centres, life sciences, industrial manufacturing, substations and renewables, power generation, petrochemical and commercial. Acrastyle will be working within the substation sector to provide marshalling kiosks.
Our Marshalling kiosks are versatile, rugged outdoor enclosures which interface with a variety of equipment within a substation.   They are constructed from 304-grade stainless steel which is resistant to corrosion and oxidation. All of our marshalling kiosks are bespoke in design to suit the requirements of our customers.  We are looking forward to working with Kirkby Group.
Ongoing Contracts
Our project installing replacement feeder protection front sheets for Northern Ireland Electricity Networks is still in progress.  The project is set on two sites in Magherafelt and Kells where Acrastyle personnel visit to measure the units and we then design and construct the units in our factory in Ulverston. We are enjoying working with the company again.  
We are still working with GE Power India on two networking cubicles which will be installed in Bangladesh.  The cubicles will be delivered to GE Stafford and then transferred to their final destination. We were contacted via our Acrastyle partners in India and are delighted to be working with GE on this major project which will improve the power distribution in Bangladesh.
New Tenders
We are in discussions with Mitsubishi Electric in Croydon who have a working relationship with UK Power Networks. Mitsubishi Electric is a world-leading manufacturer and seller of electrical products and systems.  They focus on providing green technology solutions to contribute to society and daily life around the world.
Completed Projects
We have just completed an order of protection panels for Chapelcross Power Station in Dumfries and Galloway.  The protection panels have gone through our design, construction and rigorous testing and are awaiting dispatch.
Accreditation Audit NQA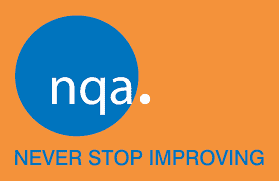 We are in the process of having an NQA audit which assesses our accreditation in order for it to be renewed and updated.  Assessment areas include; Quality, Environmental and Health and Safety management. Securing an accreditation indicates to potential customers that we provide service and products that meet the high standards required by the NQA.
The NQA is a globally recognised certification scheme which assesses the services companies provide in a variety of industries.  Sectors include; aerospace, automotive, food and beverage, automotive, construction, risk management and education. They support companies as they work towards achieving accreditation and carry out regular assessments.  
Each award has its own ISO number ISO 9001:2015 represents quality standards and ISO 45001:2018 refers to health.  ISO is an acronym for International Organisation for Standardisation. NQA accreditation gives potential customers reassurance that the products and service businesses provide is of the highest quality.
Staff Announcements
As a result of recent staff restructuring our Business Development Director Steve Smith has taken on additional duties.  His extra responsibilities relate to commercial and sales aspects of the business. Steve's new job title is Sales & Business Development Director. We wish him all the best in his new role and look forward to the new opportunities it brings to the company.
If you would like to find out more about marshalling kiosks or any other aspects of our business, contact us for more information.