Indoor & outdoor custom built marshalling kiosks
Acrastyle is a leading manufacturer and provider of marshalling kiosks for electrical substations. These can either be outdoor applications where they are usually of stainless steel, or for indoor substations where painted galvanised steel kiosks are often supplied. They are used to provide convenient connection points for the various control, protection and instrumentation wires which go to, and come from, all the different substation plant. This includes power and instrument transformers, switchgear and SCADA equipment.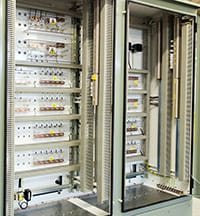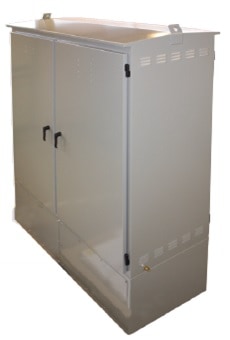 Our kiosks are usually custom designed for each application, ensuring the correct amount of equipment is included for both the currently envisaged requirement and for future expansion. They can be provided with front and rear access or front only access where substation space is limited. Marshalling kiosks usually contain some or all of the following:
Cable terminals and expansion terminal rails
Fuse and test link arrays
Cable management facilities and cable gland plates
Miniature circuit breaker arrays
Switches
Isolation points
Safety insulation barriers
Substation auxiliary power supply sockets
Pilot isolation transformers
Lamps and indicators
Acrastyle has supplied many hundreds of substation marshalling kiosks to overseas customers and throughout the UK, including all the UK electricity network operators such as Western Power Distribution (WPD) and UK Power Networks (UKPN).