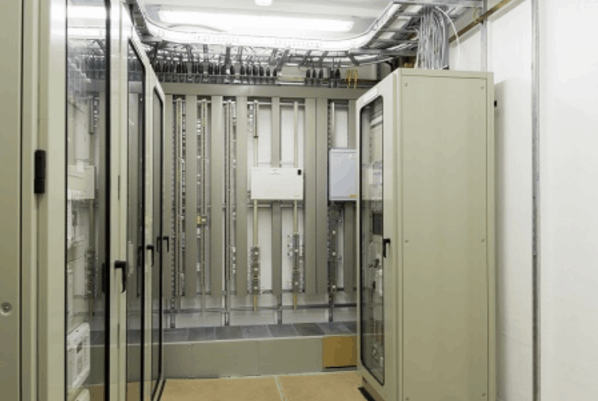 So what are Portable Relay Rooms? Portable Relay Rooms are containerised substation solutions. These are some of the key factors that make up a portable relay room:
A protection and local control scheme custom-designed for the power system application
A SCADA RTU fully integrated with the protection scheme for remote monitoring and control
Heating, lighting, power supply and air-conditioning to ensure the plant and operating personnel experience optimal conditions
A central marshalling box and cable gland plate for ease of external connections.
Optical Distribution Frames (ODF's) for modern IEC-61850 protection relays, which require fibre optic marshalling.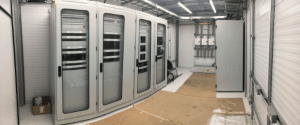 Portable relay rooms are self-contained, fully integrated, modular buildings which contain several interconnected sub-systems. They can be positioned at the substation, solar farm or wind-farm, often near the project completion date and simply cabled up to a single marshalling kiosk. One of the key benefits of Portable Relay Rooms, is that they are "plug and play" solutions.
Acrastyle thoroughly tests all manufactured products. Portable Relay rooms are subject to a wide range of tests and checks. An example of the extent of testing and attention to detail, is as follows:
Basic insulation checks
Wiring checks
Distribution board tests
Miniature circuit breakers rated at 10kA – EN 60898 compliant
Metallic Distribution board as per British Standard 7671 + A3:2015
Power on tests
Earth continuity tests
Outdoor weather test for a 2-month period
Our designers are located next door to our manufacturing facility, hence our project team liaises with them directly, to ensure successful project delivery. This provides a faster overall project delivery, combined with a lower overall project cost and less design errors. The key benefits are that work is completed more efficiently, with reduced on-site installation time, commissioning time and cost.