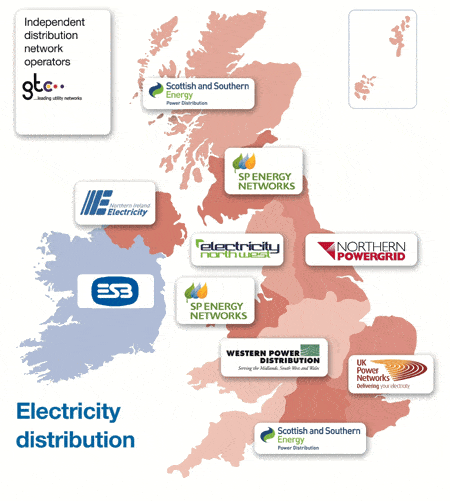 What is a DNO?
Across the UK, the electricity network is separated into individual regional areas with each regional electricity grid controlled by the local Distribution Network Operator (DNO). Each regional grid is connected to the main National Grid. Within their respective areas, each DNO controls and operates substations that transmit electrical power to all users including homes and businesses.
Who are the UK's DNOs?
The map below is from the Energy Networks Association, which highlights how the UK's electricity network is divided. The seven DNOs are as follows: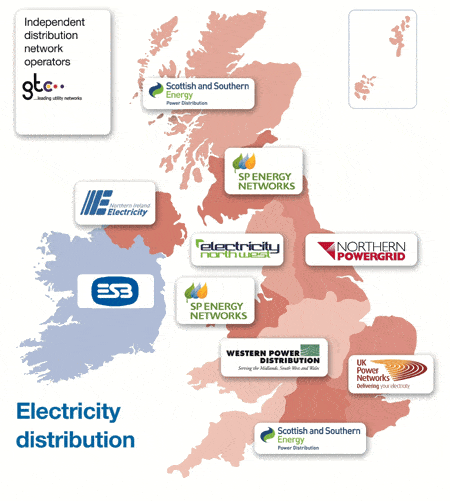 Electricity North West – covering an area from North Cumbria to Manchester and every town and village in between, ENW are responsible for maintaining and upgrading 13,000 km of overhead power lines and more than 44,000 km of underground electricity cables across the North West region. 
Scottish & Southern Energy – operating in both the South and North of the UK, SSE have two distribution networks. The largest of these supplies 2.9 million people in central southern England. The second SSE distribution network is located in Northern Scotland supplying 740,000. Connecting major towns such as Aberdeen, Dundee, Inverness, and Perth, SSE also connects the Scottish islands with subsea cabling. 
Scottish Power – similarly to SSE, Scottish Power also supplies two network areas. The first covers Central and Southern Scotland (where SSE does not operate). Their second network supplies customers in Merseyside, Cheshire, North Shropshire, and North Wales.
Northern Powergrid – supplying 3.9 million customers, Northern Powergrid's regional network area covers Northumberland and the Humber as well as from the North East coast to the Pennines. This consists of around 63,000 substations. 
Western Power Distribution – consisting of 185,000 substations, the WPD network supplies electricity to the individual towns and villages throughout the Midlands, South West, and Wales.
UK Power Networks – covering an area of more than 29,000 square kilometers, UK Power Networks supply much of the South East of England, including the capital city of London and other major towns such as Cambridge, Brighton, and Dover. 
Northern Ireland Electricity – responsible for the electricity supply across the whole of Northern Ireland, NIE Northern Ireland Electricity Networks transport electricity to over 860,000 customers with a network area of around 47,000 kilometers.
How does Acrastyle work with the DNO's?
Acrastyle are proud to work with all 7 of the DNOs – providing our high voltage substation protection and control equipment as well as market leading solutions and services. 
We deliver a full service in the design, manufacture, testing, installing, commissioning and maintaining of high-voltage substation protection and control equipment.
As well as providing detailed substation site surveys, drawing audits, and maintenance services, we provide protection panels and cubicles, catering for all levels of power transmission, distribution and generation. Our protection panels and cubicles allow the customer to quickly and easily install new, or replace existing protection equipment and can be tailored to the client's specific requirements. 
In addition, we design and develop Marshalling Kiosks which provide convenient connection points for the various protection and control cables. Our Marshalling Kiosks are usually custom designed for each application, ensuring that the correct equipment is included for both the currently envisaged requirement and for future expansion.
We also supply fully ENA approved 132kV disconnectors with each single-phase fully assembled, factory set and checked. We design and fully construct every disconnector system in-house ensuring that all the alignments, torques and contact pressures, phase interconnections and interlocks are correctly set. We witness the correct installation of disconnectors, and can fully erect, install and commission the structure and disconnector to ensure that the customer enjoys a completely trouble-free operation. Our team of highly skilled engineers also provide ongoing routine maintenance services to ensure that the disconnector and electricity grid continues to operate safely for many years to come.
Get In Touch
As a leading name and with over 50 years experience in the sector, we have earned a unique reputation for superior product quality, outstanding technical expertise and excellent customer service. Our highly skilled, passionate personnel continue to provide market leading Power System Protection solutions and are dedicated to our work all around the UK and globally. If you have an enquiry about a project or would like to find out more about our products and services please get in touch.
Don't forget to follow us on Facebook and Twitter to keep up to date with all of our latest news and innovations.