There are now over 25,000 disconnectors in service world wide supplied by Acrastyle's group companies including S & S Power Switchgear Ltd which has been manufacturing and supplying disconnectors to clients across the globe since 1979. Disconnector designs are available from 36kV up to 420kV in Centre Break (RC), Double Break (RD) and Pantograph (RP) configurations.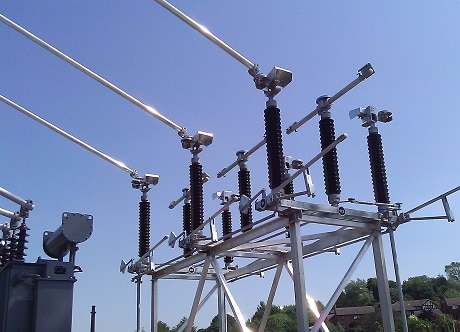 132kV double-break disconnector installed at a UK electricity substation
Acrastyle UK has been supplying ENA assessed disconnectors for use on 132kV systems to the UK electrical transmission and distribution sector since 2002. There are now almost 500 of Acrastyle's disconnectors in service across the UK.
In addition to the UK and India, disconnectors of all voltages and configurations have been supplied to many countries around the world.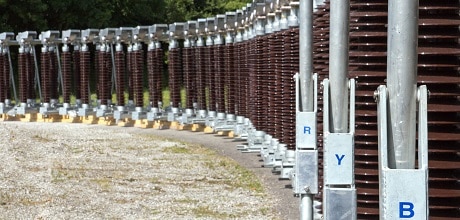 Background
Acrastyle Limited has been a major supplier to the world wide market for the design and manufacture of high voltage protection and control systems for more than fifty years. Since the acquisition by S & S Power Switchgear Limited (S&S) in 1997, Acrastyle has been involved in the design, installation and commissioning of medium voltage switchgear and medium / high voltage disconnectors manufactured at the S & S facilities in Chennai and Pondicherry in India. The original designs for the disconnectors were acquired from Hawker Siddeley with whom S & S had an initial joint venture, following which a number of innovative and cost effective improvements were made. Today more than 25,000 disconnectors have been successfully commissioned world-wide. Acrastyle and S&S are ISO 9001 certified and the disconnectors are compliant with the exacting demands of the relevant international standards.
Development of new disconnector design
Acrastyle have jointly developed a new 132kV double-break disconnector for use in the UK power transmission and distribution sector. This contemporary design has now been completed and is already in service in many countries around the world. This newly designed disconnector, which has specific enhancements for UK applications, will shortly be submitted for assessment by UK utilities.
Fully working examples of both the new and existing designs of disconnector will be available for demonstration and training purposes at our Ulverston facility in early 2015. Please contact us for further information.
Key benefits of the new design of disconnector include:
Low maintenance
Minimal installation time
Simplified commissioning
Suitable for use in harsh environments
Compatible with existing structure configurations
Supplied with porcelain insulators where required
Optional hydrophobic & vandal-proof composite insulators also available
If you would like to hear about the latest developments with our new design of disconnector, please like our Facebook page, follow us on Twitter or other social media.