"As the UK's first multi-vendor digital substation installation, SP Energy Networks' FITNESS is a landmark project that could radically change the way substations are built and maintained". – Electrical Review UK
"The goal of FITNESS is to enable GB Transmission Owners (TOs) and Distribution Network Operators (DNOs) to apply a digital substation design approach to future load and non-load related investment. Digital substations are based on concepts of standardisation and interoperability, and enable replacement of many kilometres of copper wiring with digital measurements over a cost-effective fibre communications network". – Scottish Power Energy Networks
"The deployment and demonstration of fully integrated control and protection across Station Bus and Process Bus represents a significant technological leap for SPEN but one that offers a reduced outage and low-risk approach to future substation design and operation by enabling faster deployment, improved safety, greater availability and controllability, with a reduced footprint and at lower cost than conventional design". – PAC World Magazine
In 2018, Acrastyle manufactured a Portable Relay Room (PRR) for Scottish Power Energy Networks (SPEN) destined for Wishaw 275kV substation. The PRR was a key component of the Future Intelligent Transmission Network Substation (FITNESS) project and Acrastyle Limited is proud to have worked with ABB and GE to make this a reality. The PRR was a containerised substation solution, equipped with protection and control cubicles and a dual-redundant battery backup system. We worked closely with all stakeholders, every step of the way to ensure compliance with regulatory standards.
The PRR was designed to withstand the harsh Scottish climate. Acrastyle achieved this by implementing embedded gutters, downspouts and extra-thick, 70mm wall panels. The PRR included six protection and control panels, which consisted of ABB and General Electric relays, GPS clocks and network switches. All protection equipment was IEC-61850 compliant, which means that digital communication over fibre-optic cables replaced conventional copper wiring. This reduced the overall cost and installation time on site. 
The dual-redundant battery system was specified by the end-user at 110V DC. If battery bank A were to fail, then as a backup battery bank B would immediately change over. Electrical utilities are often required to maintain N-1 redundancy and this is achieved by the dual-redundant battery systems. Each row of batteries included 9 x 90Ah VRLA batteries for an emergency standby time of eight hours. The key benefit of valve-regulated lead-acid (VRLA) batteries is that these are low maintenance batteries with excellent performance characteristics. 
Acrastyle designed and implemented the fibre-optic distribution frame consisting of three 96-way patch boxes situated above the main cable gland box. This provided Scottish Power with the flexibility and functionality to achieve a truly digital substation. The optical CT's and merging units provided sampled values to the substation automation Ethernet network. This formed a critical part of the protection and control solution.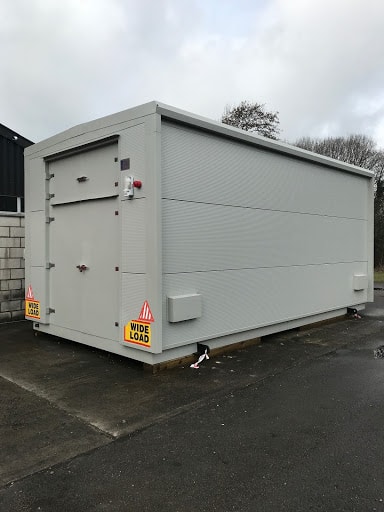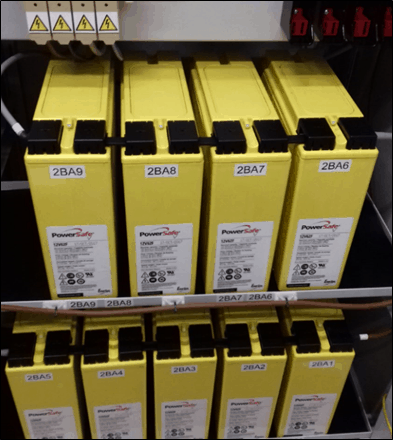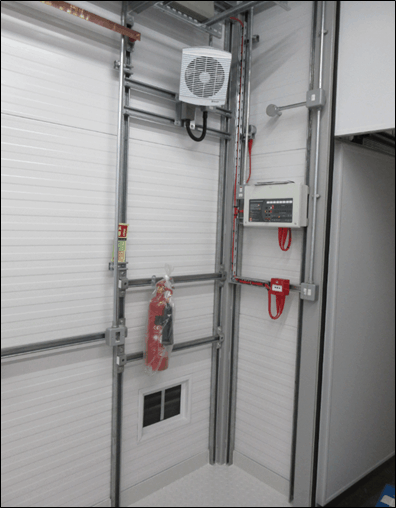 The Acrastyle design team completed the following on time and within specification:
Integrated Earthing Design

Electrical Reticulation Design

Lighting Design

SCADA Design

Fibre Optic Design

Transport Clearance Simulation
Substations are notorious for generating electrical noise and high electrical faults levels. Substation earthing is required to safely redirect dangerous fault current. The integrated earthing design comprised of the main copper earth bar with a cross-sectional area of 120mm2. The purpose of the earth bar was to reduce harmful step-touch voltages. The earth bar forms part of the equipotential platform at zero volts, which keeps the operator safe.  
Acrastyle proved compliance to the following core electrical requirements:
61010-1:2010: 1.5kV AC flash test

61010-1:2010: 1.9kV DC flash test

ENA TS 41-24: Up to 8kA fault level inside the cubicle

ENA TS 41-24: Up to 12kA fault level inside the portable relay room
The distribution board included AC supplies to the two battery chargers, 6 x 80W LED lights, wall sockets, fire alarm system, protection and control cubicles, two outdoor marshalling kiosks, two industrial servers, fan heater and extractor fan.
Acrastyle thoroughly tests all manufactured products. The PRR was subject to a wide range of tests and checks. The full scope of testing was as follows:
Basic insulation checks

Wiring checks 

Distribution board tests

Miniature circuit breakers rated at 10kA – EN 60898 compliant

Metallic Distribution board as per British Standard 7671 + A3:2015

Power on tests

Earth continuity tests

Outdoor weather test for a 2-month period
In conclusion, the FITNESS project was a highly engineered substation automation solution, which proved IEC-61850 vendor interoperability. A plug-and-play, IEC-61850 digital substation is what the energy industry needs in order to support smart grid technologies. Digital measurements over fibre-optic cables mean that overall project costs are significantly reduced with quicker deployment times than ever before. A wide variety of tests were conducted by several engineers and this provided the end-customer with peace of mind.
References:
https://www.spenergynetworks.co.uk/pages/fitness.aspx
https://www.spenergynetworks.co.uk/userfiles/file/FITNESS_Document.pdf
https://www.electricalreview.co.uk/features-mm/12629-fitness-project-sets-roadmap-for-digital-substations