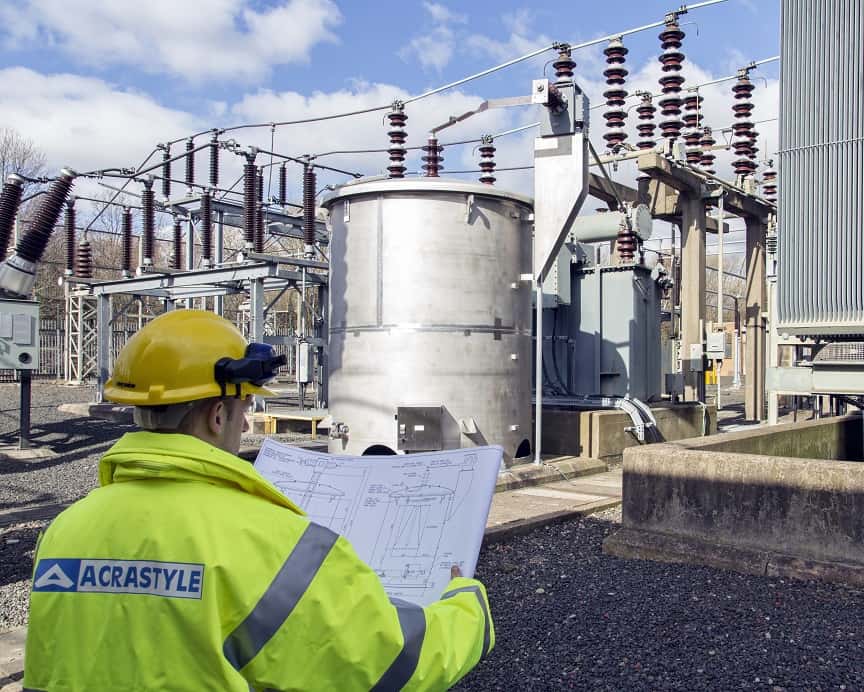 How Acrastyle Limited Supports the Power Grid
Introduction:
Acrastyle Limited plays a vital role in the safe operation of the electric power grid. From nuclear power plants to renewable energy, we provide a wide range of products and services to all utilities across the United Kingdom. Our customers include, Scottish Power Energy Networks, UK Power Networks, Western Power Distribution, Electricity North West Limited, Northern Ireland Electricity and Scottish and Southern Energy. Utilities are often referred to as asset owners or network operators and they are responsible for the operation and maintenance of substation equipment. 
Substation Equipment:
Substations have many different types of equipment, which are all inter-connected and this equipment has become more sophisticated and complex over the past twenty years. Substation equipment can be divided into two categories, namely outdoor and indoor equipment. Outdoor equipment includes power transformers, circuit breakers, disconnectors, current transformers, voltage transformers, marshalling kiosks, junction boxes, neutral earthing resistors (NERs) and disconnectors located within the switchyard. Indoor equipment includes battery banks, protection cubicles, control cubicles, tap-changer control wall boxes, Human Machine Interfaces (HMI's), Remote Terminal Units (RTUs) and a typically a telecommunications cubicle located within the control room. At Acrastyle Limited, our mechanical and electrical engineers work together to ensure that the finished product meets the technical specification.
Engineering Design Services:
Acrastyle Limited offers a wide range of engineering design services, such as protection scheme design, interface engineering, paper-to-CAD conversion and site surveys. We also program settings into modern Intelligent Electronic Device (IED) relays and perform Factory Acceptance Tests (FATs). Our engineering design services help utilities maintain their existing electrical protection and operate a safe power grid. Protection schemes include many details about the outdoor equipment as well as how the DC trip circuits operate. From a scheme designer's perspective, all secondary plant elements are categorised into the following:
Status indications (e.g: Disconnector open/closed)

Alarm outputs (e.g: Winding Temperature Trip)

Analogue inputs (e.g: Current and voltage secondary values)

LED Indications (e.g: Red Phase Trip)
The categories above are guidelines and a critical alarm output such as the Buchholz trip could also be included as an LED indication. Each utility has unique standards and technical specifications. Over the past 50 years, Acrastyle Limited has manufactured and designed robust solutions to meet these specifications. The underlying technology is continuously evolving and our latest advancements include incorporating fibre-optic cables, fibre-optic patch boxes, IEC-61850 and substation-hardened networks into our projects.
 Disconnectors:
High-quality switchgear is crucial to ensure the safe operation of high voltage overhead lines. Acrastyle Limited supplies Energy Networks Association (ENA) assessed 132kV disconnectors for use in the UK and Ireland. Our disconnectors are of the double-break, centre-rotate type (RD-145-G) which achieves a higher current breaking capacity in comparison to the centre-break type of disconnector. Our disconnectors have the flexibility of either manual or motorised operation. All disconnectors are supplied with each single-phase fully-assembled, factory-set and checked. The benefit of this is that our disconnectors are quicker and easier to install on-site. This means that our customers can meet stringent project deadlines.
Build-to-print Cubicles:
Acrastyle Limited leads the way in building substation cubicles to detailed utility standards. Build-to-print is a process for our customers to supply Acrastyle with their engineering designs. These engineering designs typically include both electrical and mechanical drawings in first draft format. We then review the received drawings and manufacture in-line with the utility's technical specification. Our high-quality, build-to-print cubicles have been thoroughly tested, which saves time on-site during commissioning.
Wall boxes:
Our high-quality wall boxes comply with the most stringent utility specifications. We manufacture several different types of wall boxes and each complies with UK standards:
Independent Distribution Network Operator (IDNO) Solkor Wall Box (e.g: Two-ended, pilot, line differential relay).

Distribution Network Operator (DNO) Solkor Wall Box (e.g: Two ended line differential relay).

Voltage Transformer (VT) Fuse Wall Box (e.g. Voltage measurement).

Disconnector Junction Box (e.g. Included with our RD-145-G disconnectors).

Emergency Trip Interface Wall Box (e.g. for shopping malls and renewable grid connections).
The benefit of Acrastyle wall boxes is the relatively small size and the ease of installation which saves time on site.
Project Management:
As with every large-scale substation project, there are months of project management required to ensure successful project delivery. Acrastyle Limited manages the timescales, technical specifications and the budget of every project with great attention to detail. From day one, Acrastyle carefully plans the project and assigns engineering resources. The customer is kept informed every step of the way by the Acrastyle Project Coordinator. Once the planning stage is completed, the project execution stage begins which includes the preparation of electrical and mechanical drawings. This usually coincides with the procurement of long-lead items such as protection relays, substation-hardened Ethernet switches and GPS time synchronisation devices. Acrastyle then begins with cubicle assembly and wiring. Thereafter, the finished product is tested thoroughly and dispatched to the site.
Conclusion:
In conclusion, Acrastyle Limited supports the power grid through a variety of substation projects and services. Our substation cubicles are world-class products, designed to last 25 years. The secret to our success is that Acrastyle Limited has evolved with the UK standards over time. The UK standards are comprised of many ENA and British Standards documents that describe stringent specifications. This means that when there is an electrical fault on the power network, you are guaranteed that the relay will trip and that the circuit breaker will isolate the fault.