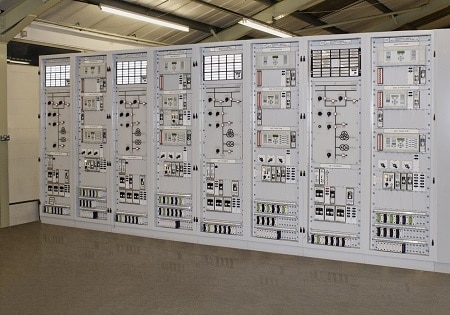 Our most recent project involves a substation upgrade in Corby in Northamptonshire. We will be sending a team to Corby to assist Western Power Distribution to install 7 mimic panelsin an existing substation to enhance its performance. Acrstyle design and build each individual panel and transport it to the site for installation.
The substation upgrade will last between twelve to fourteen weeks. Normally our customers install the panels themselves but this time we are sending a team of experts to assist in the upgrade. This is a service we will continue to offer future customers in locations all over the country. Assisting in substation upgrades allows companies without the relevant skill set to benefit from cost-effective system improvements.
Western Power Distribution is an electricity distribution network operator in the Midlands, Wales and South West of England. They have a large customer base and provide electricity for nearly eight million customers. As well as maintaining thousands of electrical systems they also seek to find ways to be kind to the environment.
Mimic Control Panels and Substation Upgrade
We design our Mimic Control Panels in our factory in Ulverston. They are available in a standard 19" rack type panels or customised to suit our customers' individual demands. The mimic element is due to each panel having a schematic (plan) of the system they are controlling. Panels are easy to replace due to complete inter-device wiring and flying leads which are wired to a terminal rail. This makes a substation upgrade manageable and straightforward.
Each panel consists of lamps and indicators showing the status and location of components being controlled. Switches control and alter the status of the module while alarms alert operators to faults in the system. All panels have full internal wiring with appliances on the front and internally. New installations in cubicles are accessible through a front or rear swing frame with the option of a front door. Acrastyle also retrofits within existing installations.
The benefits of mimic control panels include stealthy commissioning due to prior testing of the schematic in relation to the terminal rails. There is minimum stage time and low site work costs. Installation does not disturb the function of cubicles nearby or the reconnection of bus-wiring between cubicles.
Onsite Support Services
Acrastyle already provides a complete installation and commissioning service for all of our products. Our engineers are able to regularly test systems to ensure that they work as efficiently as possible. Customers have access to all test reports on either their own forms or forms Acrastyle provide. In addition we provide ongoing maintenance which inevitably extends the life of all our equipment.
We also supply a team of installation engineers to assist installation. This speeds up a substation upgrade and includes training for customers. Upgrading the substation in Corby is the first time we have provided such a service. We look forward to assisting other companies like WPD in the future.
Future Projects
The team at Acrastyle are always looking toward future projects and working in different areas of the country.
Strathaven Project
We will be delivering a number of marshalling kiosks for the Kirkby Group in relation to the Strathaven Project. The aim of the £5 million Strathaven Project is to improve connectivity for 7000 homes in the Strathaven area. The improvements involve substation upgrade and rewiring to reduce the incidences of power cuts and safeguarding the network in the future. We are excited to be part of this huge two-year project.
Substation Upgrade In Scottish Power Area
We are heading up to beautiful Scotland to upgrade a 275 kV substation. The substation is one of 230 high voltage substations in the Scottish Power Area. These substations are crucial to the transmissions network in the area. Regular maintenance and substation upgrades ensure homes and businesses receive a reliable and economical power supply.
Modification Of Existing 11kV Top Boxes – Cannock Staffs
We are embarking on another project with Western Power Digital (WPD) in the West Midlands territory. The modifications we make to the existing 11kV top boxes in Cannock Staffs will improve efficiency and maintain a reliable electrical supply to all of their customers.
To find out more about substation upgrade or inquire about assistance from our engineering team click here.