Power system protection and control design
Acrastyle has significant experience in protection and control design with many thousands of LV, HV and EHV protection and control systems in use throughout the world. Its wide experience and in-depth expertise in protection and control design enables it to design the most complex power system schemes as well as providing elegant, simpler schemes for less arduous applications.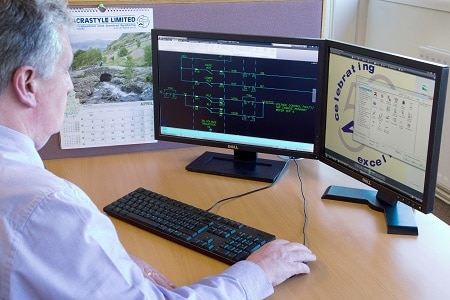 The protection and control design process:
Begins with a detailed understanding of the planned power system configuration
Understands the power system operating parameters under both normal and fault conditions
Understands all the mechanical & electrical limitations that may be imposed by the site
Is carefully controlled with all stages checked and signed off
The process also allows:
Changes to be carefully logged and documented
Design version control & overall review before releasing to the customer for approval
Design freeze for manufacture
Modifications & change requests post freeze that are carefully reviewed and implemented once approved
System testing to the scheme drawings to test equipment, manufacture and design
Wherever possible, sophisticated CAD design software is used which can automatically:
Produce wiring lists & wiring diagrams
Assign and define terminal numbers
Ensure that no contact is incorrectly used more than once
Check that the correct maximum number of wires per terminal is not exceeded
Generate a detailed bill of material
Ensure that the devices incorporated from the Acrastyle pre-defined library are correctly represented and wired out
Where a scheme is going to replace part or all of an existing scheme in several project phases Acrastyle can provide detailed 'red, green and black' drawings for each phase.
We use the latest AutoCAD 2015 software & can provide drawings & designs in all releases of AutoCAD DWG file in addition to DXF, DWF and Adobe PDF files. Drawings can also be provided for compatibility with other CAD packages on request.
Scanning and printing
Our protection and control design services are supported by our large format scanning capabilities, both on and off site, and also our large format plotting/printing services (up to A0 in colour or B/W).
Contact us to let us provide you with a detailed quotation to meet your power system design requirements.