Acrastyle is proud to have partnered many of the world's most prestigious 'turn-key' electrical service providers on projects of global significance.
We also deliver protection solutions to customers worldwide in the following sectors:

Acrastyle's customers include all of the UK electrical generation, transmission and distribution utilities.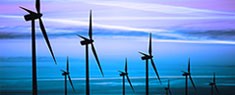 Acrastyle systems monitor and protect concentration substations, connections and step up transformers for more than 15 on- and off-shore wind farms

Acrastyle has provided hundreds of power system protection systems for companies in the transport, petro-chemical, process, steel, water, gas and other industrial sectors

Acrastyle has provided many power system protection systems for customers in the rail and air sectors. These systems monitor and protect trackside substations, catenary systems, distribution substations and power transformers.